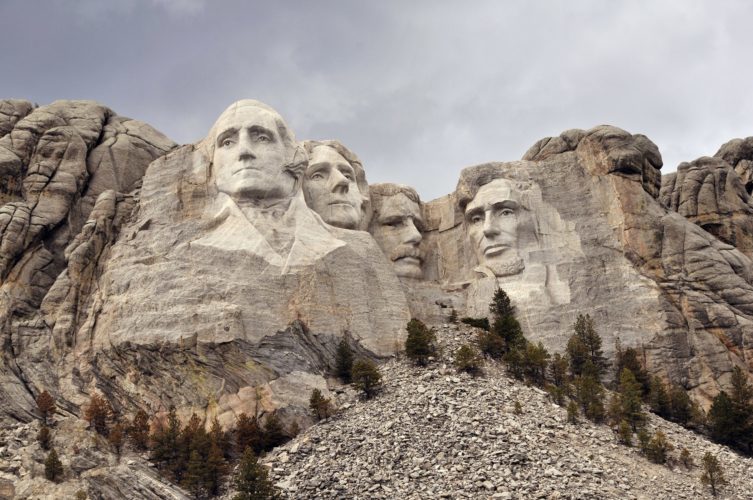 We are fortunate to be in an absolutely stunning area of the United States. Rich with history and traditions, this area of southwestern South Dakota offers a great variety of area attractions. Some are right next door and others are easily accessible for day trips. On our "links" page you will find other convenient website links showcasing the area's attraction listing.
Badlands National Park
Located just 5 miles from our Guest Ranch in southwestern South Dakota, Badlands National Park consists of nearly 244,000 acres of sharply eroded buttes, pinnacles and spires blended with the largest, protected mixed grass prairie in the United States. The Badlands Wilderness Area is made up of 64,000 acres and is the site of the reintroduction of the black-footed ferret, the most endangered land mammal in North America. The Stronghold Unit is co-managed with the Oglala Sioux Tribe and includes sites of 1890s Ghost Dances.
Established as Badlands National Monument in 1939, the area was redesignated "National Park" in 1978. There are many fossils that prove the area was covered by water at one time.
The park is open year-round with over 1.1 million visitors per year, 24 hours a day, seven days a week. Visit their website for more information
---
Minuteman Missile Site 15 miles from the ranch.
The Minuteman Missile National Historic Site was established in 1999 to illustrate the history and significance of the Cold War, the arms race, and intercontinental ballistic missile development. This National Historic Site preserves the last remaining Minuteman II ICBM system in the United States. For more info check here.
---
Wall Drug-30 miles from the ranch
Wall Drug Store got its start during the Depression years by offering Free Ice Water to thirsty travelers and by building its reputation on friendly service. That tradition continues on today.
Wall Drug is one stop you won't want to miss when traveling in South Dakota. Stop and see them! Have a bite to eat . . . look at all the memorabilia . . . enjoy the art gallery . . . there's shopping galore . . . have fun with the kids in the big Back Yard and, of course, have a refreshing glass of that famous FREE Ice Water! Need directions? Check out their site for more info.
---
Prairie Homestead- 15 miles from the ranch
The Prairie Homestead and the Badlands Trading Post are both located at the North East entrance to the Badlands National park. The Homestead was restored in 1962 by Keith and Dorothy Crew. The Prairie Homestead, believed to have been built in the late 1800's is one of the very few sod dwellings intact today. The National Register of Historic Places is the official list of the Nation's cultural resources worthy of preservation. In 1974 the Prairie Homestead was placed on this list. It is also an AAA approved attraction. This sod dugout was built by Mr. & Mrs. Ed Brown. They were early pioneers who came west looking for land where they could fulfill their dreams. When they reached the grassy prairies near the Badlands they filed on this 160 acres. For more info check here.
---
Wild Horses Refuge-130 miles from the ranch (2 hour drive)
Unadoptable wild Mustangs roam free on 11,000 spectacular acres. Two-hour tour to view the Mustangs, Petroglyphs, and Crazy Horse movie set. Tours: 10am, 1pm and 3pm. Closed Sundays. Open May 1 – Sept. 30. Chuckwagon Dinners 5pm Tues., Thurs., and Sat. (June-Aug. only). SW of Hot Springs, SD. Reservations: 1-800-252-6652 http://www.blackhillsbadlands.com home/thingstodo attractions/trailrides
---
1880Town-80 miles from the ranch (1-hour drive)
Explore more than 30 original turn-of-the-century South Dakota buildings relocated to this site from throughout the state and furnished with thousands of unique relics of the Old West. Features a 14-sided barn, Dances with Wolves movie props and memorabilia, Vanishing Prairie Exhibits, Casey Tibbs tribute, Buffalo Bill display, Town Hall-historic film shown continuously, Western art collection, and an 800-acre longhorn cattle ranch. The entire town has been used for western film locations. Open Daily May-October; June through September 6am-sunset, May and October 9am-sunset. Self guided tours, stay an hour or all day! Bring your camera! Admission: Adults $5, Teens $3, Children $2, 5 and under Free. Additional Services: Texaco Gas Station, '50s Train Diner, Camping-one fourth mile north.
---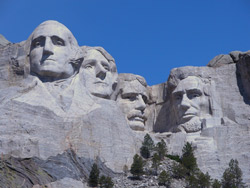 Mount Rushmore-90 miles from the ranch (1 1/2 hour drive)
Mount Rushmore is a memorial to the birth, growth, preservation and development of the United States of America. Between 1927 and 1941, Gutzon Borglum sculpted busts of Presidents George Washington, Thomas Jefferson, Theodore Roosevelt, and Abraham Lincoln high in the Black Hills to represent the first 150 years of American history. The primary resource at Mount Rushmore is the granite sculpture itself, but also of interest is the Sculptor's Studio built under the direction of Sculptor Gutzon Borglum in 1939. Unique plaster models and tools related to the sculpting process are displayed in the studio.
Recently, ten years of redevelopment work culminated with the completion of extensive new visitor facilities. These include a new Visitor Center and Museum and the Presidential Trail, a walking trail and boardwalk providing spectacular close-up views of the mountain sculpture. Other resources at the memorial include flora and fauna representative of the Black Hills environment and the unique geological formations of the mountain and adjacent peaks. Check out their site.
---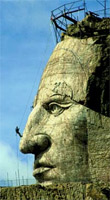 Crazy Horse- 100 miles from the ranch (1 1/2 hour drive)
Located in the Black Hills of South Dakota, on US16/385 north of the town of Custer. 17 miles from Mount Rushmore. The Crazy Horse Memorial of the legendary Oglala Sioux war chief is a memorial to the famous Native American leader, Crazy Horse, in the form of a huge stone carved statue of a rider on horseback. Perhaps he is most famous for defeating General George Armstrong Custer and the 7th Cavalry at the Battle of the Little Bighorn in 1876. A brilliant military tactician, Crazy Horse never lost a battle. Ironically, he was killed not in war, but while parleying with the U.S. Army. In the middle of a truce, a scuffle broke out and a soldier stabbed Crazy Horse in the back. The Sioux leader remains a symbol to his people of a courageous warrior, a man who never compromised his values. Memorial Website found here.
---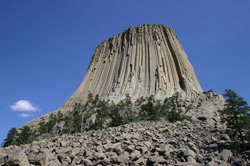 Devil's Tower (4 hour drive)
The nearly vertical monolith known as Devils Tower rises 1,267 feet above the meandering Belle Fourche River. It is the remnant of an ancient volcanic feature. Known by several northern plains tribes as Bears Lodge, it is a sacred site of worship for many American Indians. The rolling hills of this 1,347 acre park are covered with pine forests with valley support deciduous woodlands and prairie grasslands. Deer, prairie dogs, and other wildlife are abundant.
The legend of Devil's Tower Devil's Tower, Wyoming, a volcanic plug or neck. In Kiowa Indian mythology it was said that: Once upon a time seven little girls were playing in the woods far from home and they came upon some bears that chased after them. They found refuge on a great rock, that rose into sky with them on it, making them into stars. The bears tried to pursue them, but all their efforts were in vain. You can still see the struggle and their claw marks in the rock that makes up Devil's Tower.Monument website click here.
---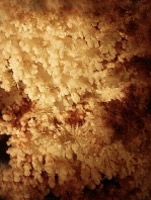 Wind Cave Nat. Park (2 hour drive)
Wind Cave features 70 mi/113 km of passageways. The winds referred to in the name come from the cave's "breathing" as the air in the cave responds to changes in barometric pressure outside. You can choose from five tours to explore the cave, ranging from one to four hours in length and from a fairly easy hike to a strenuous spelunking adventure. Take a jacket, as the underground temperature is 53 F/12 C. Aboveground, the park encompasses grasslands and forest and has a wealth of wildlife: pronghorn, bison, elk, eagles and wild turkeys, among others. 50 mi/80 km southwest of Rapid City.