Ranch Breakfast meals, food options, dining options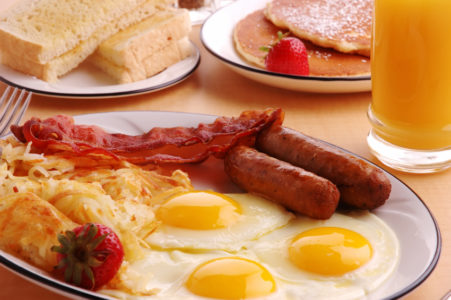 Welcome to the kitchen at the Circle View Guest Ranch! Breakfast at the ranch is a BIG deal, so plan to leave FULL and ready for your day!
Breakfast is served family-style in the Kruse family kitchen daily at 7:30am only. Coffee, hot tea and juice are available starting at 7am.
We take advantage of our family's agriculture niche by using locally grown foods whenever possible. On our family ranches we grow wheat that is ground fresh, in house for our always-popular Whole-Wheat Blueberry Pancakes, muffins and breads. Brother David is a local beekeeper giving us access to plenty of fresh, light honey that that gives our homemade Cherry Pistachio Granola an extra special flavor.
We do our best to accommodate our non-meat eating guests with plenty of vegetairan options. We serve our homemade blueberry almond granola with yogurt and fruit daily (during peak season) along with breads and egg selections. Please let us know in advance if you have special requests.
Sample Breakfast Menus
Whole-Wheat Blueberry Pancakes (a ranch FAVORITE!)
Soft Scrambled Eggs
Tator Tots with Bacon
Homemade Cherry Pistachio Granola w/Vanilla Yogurt
Cherry Coffee Cake
Fresh Fruit
Coffee & Juice
*
Grilled Ham, Egg & Cheese Croissant
Cheesy Hashbrown Casserole
Fresh Fruit Salad
Homemade Blueberry almond Granola w/Vanilla Yogurt
Mandarin Orange & Kiwi Fruit Tart
Coffee & Juice
*
Southwest Breakfast Burritos served with Salsa & Sour Cream
Crunchy potato patty
Apple Dumplings
Fresh strawberry, Blueberry & Banana Smoothies
Cranberry Granola Balls
Coffee & Juice
*
Biscuits with Sausage Gravy or Vanilla Blackberry Butter
Buffalo Sausage Patties
Soft Scrambled Eggs
Hash-brown Patties
Fresh Fruit Smoothies
Homemade Blueberry Almond Granola w/Vanilla Yogurt
Coffee & Juice
Circle View Ranch offers guests access to a complete, guest kitchen stocked with plates, utensils and basic cooking equipment for your use. You might consider bringing groceries to the ranch and prepare a simple evening meal to enjoy on the back deck during sunset. There is a gas BBQ grill for guest use as well.
Other dining options in the area are limited to the Cedar Pass Lodge (open seasonally from May-October), the Interior Grocery Store, Cowboy Corner Service Station serves hot lunch M-F along with Country Fried Steaks on Friday night and Prime Rib on Saturday night, both are delicious! Wagon Wheel Bar (serves pizza, burgers and chicken strips) All about 4-6 miles East of the Ranch. The town of Wall is 30 miles north of the ranch where you'll find several more dining options.