Address: 20055 East Highway 44, Scenic (Interior), South Dakota 57780
The ranch is located in the heart of the SD Badlands, about one hour east of the Black Hills. Our ranch borders Badlands National Park and the Pine Ridge Indian Reservation. The drive from Rapid City to the ranch is exactly one hour or 70 miles.
Phone: 605-433-5582
Email: cvgrphil@gwtc.net
facebook
instagram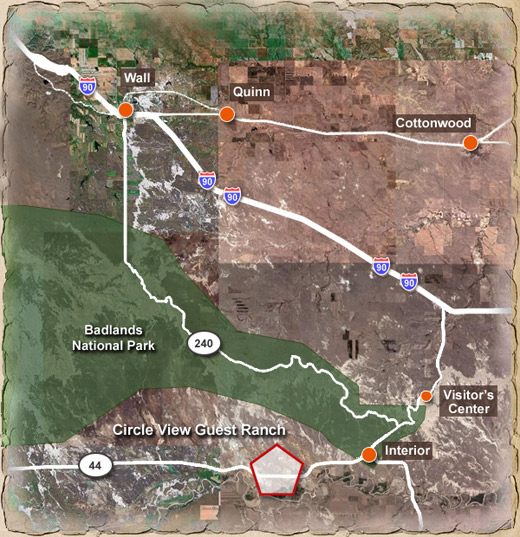 Circle View Ranch
Elevation (atop the butte) 2,453 feet
GPS LOCATION
43 degrees 43'6.42″ N
102 degrees 2'12.74″W
DIRECTIONS TO THE RANCH
**Please know that most GPS navigation devices have our address incorrect. Please follow the directions below for best accuracy.**

From the EAST: Follow I-90 westbound to exit 131. Take the exit and follow signs south into Badlands National Park toward the visitors center. Just past the visitors center, you'll exit the park left and follow signs into the town of Interior. Once in Interior, continue on this same road as it curves to the right through town. You are now on Highway 44 WEST. Go 4 miles further and you'll see our sign on the left side of the highway. The house sits one mile atop the hill. All in all, the ranch is 15 miles south of I-90 exit 131.
From the WEST or Rapid City: Simply find Omaha Street and drive east. Once you start to leave the city, the road turns to highway 44 and we are exactly 75 miles or one hour out. You'll see us on the right side of the highway. The house sits atop the hill, one mile. Please know that there aren't any services between us and Rapid City so make sure you have supplies and a tank of gas! Please look for us between mile markers 115 – 116.
From the Rapid City AIRPORT: When driving out of the airport, simply take a left onto HIGHWAY 44. Drive exactly 65 miles or one hour. You'll then see us on the right side of the highway. The house sits one mile atop the hill. Please know there aren't any services between the airport and us so make sure you have gas and supplies! If you need services in town, you can backtrack 8 miles east into Rapid City for gas, restaurants or groceries before heading to the ranch.